I first saw Fool Moon Rising
by Kristi & T. Lively Fluharty at Westminster Bookstore
(which provides an excellent list of children's books).
This fun, rhmying book tells a tale of the moon boasting away at all the great songs about
him
, all the people that have visited
him
, how
he
could change shape and even disappear! Then one day his pride is revealed and he confesses that his light comes from the Sun. Now he reflects,
"the light with all his might
The Sun is now his boast"
And it ends with a little boy on his knee's praying:
"So God I pray for grace each day
To find the joy thats true,
In all my days in all my ways
In making much of You!"
Some bigs words like: brag, boast, pompous and croon are in the book as well as abstract words like: fame and pride. So either explaining the words as you go to little ones (that will endure it) or reading the book to older kids that will understand it will be most helpful. Either way, I hope that you add this book to your family library!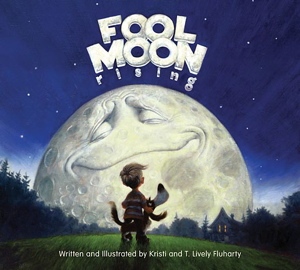 Would you like to see the entirety of the book? It's beautiful! Just go to
Crossway
and click on the book.